Hi, I'm Michelle,

Tech Lead & Web Developer
I help businesses go from idea to successful web app through technical strategy consulting and custom software development.
Get your project built the right way
 As a business owner, building a web application (or a more complex website) can be daunting. I can help you with:
Clarity
Get to clarity of what you're building, what your users benefit most of, and what to prioritise in alignment with your business goals and requirements.
Build a better understanding of the development process, the time and financial investment, and the skillsets you'll need.
Tech Architecture & Scope
Make or validate the right choice of technology (tech stack, existing solutions etc.) for your situation and the problem you're trying to solve. Understand the benefits and trade-offs of different approaches.
Create a detailed scope document that will save you money and time and help streamline the development process.
Implementation
If it's a fit, my team and I can implement your software for you, including design, development, quality assurance, deployment, and ongoing support.
My services go beyond typical web development – I offer a holistic approach that prioritises clarity before starting the build and consult you throughout the process. 
Comprehensive Scope & Tech Architecture
Together, we define what your web app looks like, how users interact with it, what features are most important, and how it works under the hood. This is crucial to buiding the right thing while staying on time and budget.
Results can include: Visual prototype, wireframes, scope of work document, unbiased technology stack recommendations, cost & time estimates.
Full-Stack Development
If your project and requirements are a good fit, my team and I can implement your website/application. Our typical tech stack includes: 
Backend development: Python/Django, Node.JS
Frontend: React.JS
Web3 technolgoies: Ethereum, Polygon, Thirdweb
CMS & Ecommerce: Shopify, WordPress
For the design part, you can bring your own designer or I can suggest someone from my network.
Ongoing Consulting & Support
Naturally, I will assist you throughout our development projects together and beyond. Based on your needs, we can set up ongoing support and development agreements, staff training, or consulting.
I can also consult you in a more general capacity as a tech lead or fractional CTO.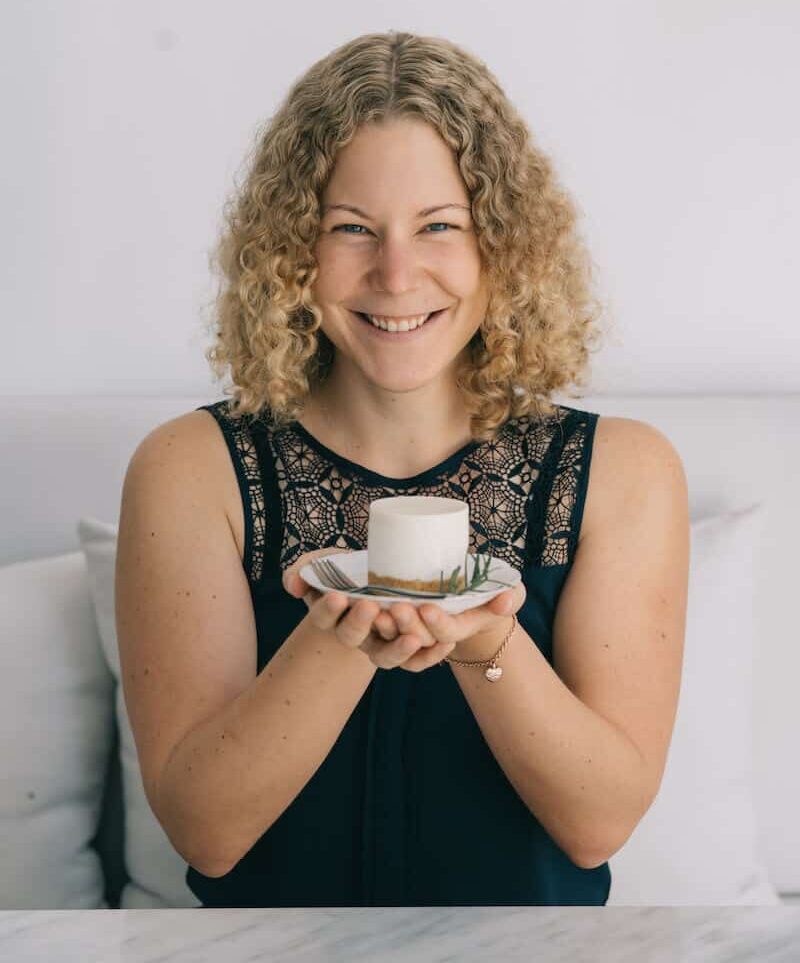 With over 10 years of experience as a software and web developer across a variety of industries, business types, and technologies, I've taken businesses through the entire process of building applications from a rough idea to a finished, successful (and sometimes funded) software product.
I have experienced how hard working with developers can be, which is why I put a focus on tech strategy consulting & technical design and not just the implementation. My clients benefit from my holistic web development service and thorough understanding and control of the process.
Originally from Germany, I have been working remotely and internationally since 2015 and now live on the Gold Coast, Australia. 
Have a look at how I've helped other business owners make their sotware dreams a reality: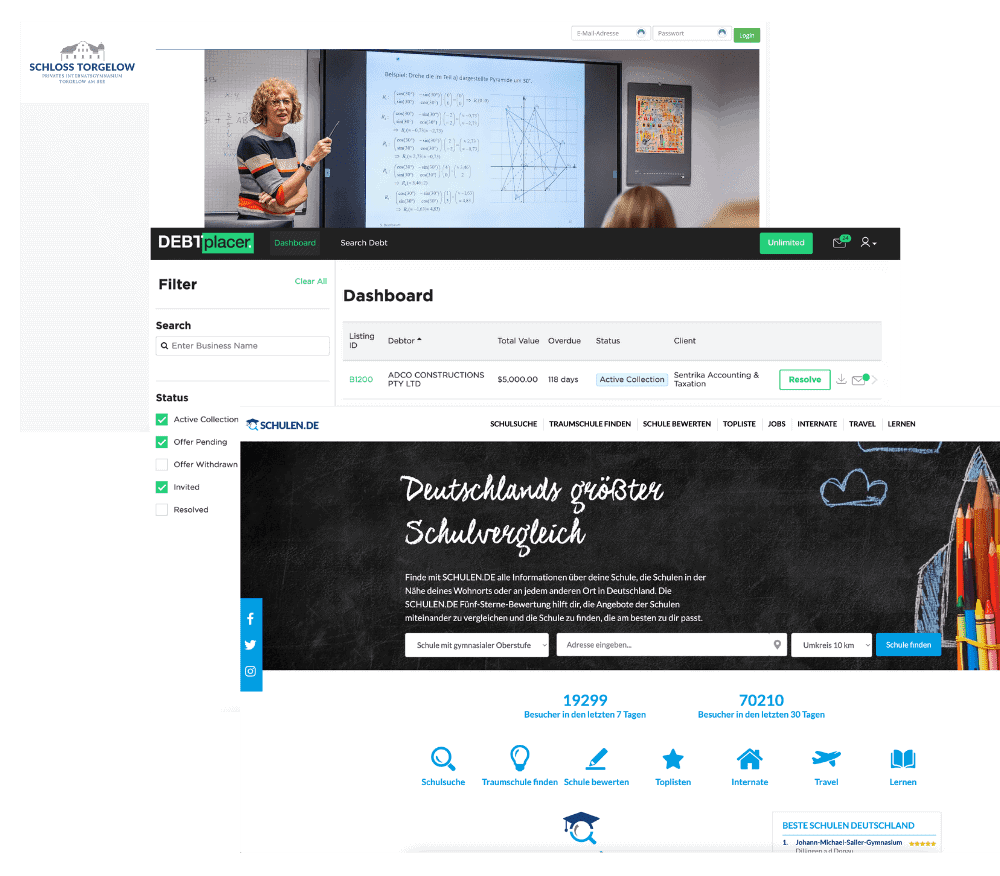 Debtplacer.com
Australian financial services marketplace that we took from the founder's rough idea to being a validated, funded startup with a growing user base.
Services provided: User journey design workshop, technical consulting, MVP development with Django and React, ongoing feature development, integration development with third-party services.
schulen.de
The leading German school comparison portal with ~100k monthly users and multiple monetisation features. At the core of this website is a complex school rating and search algorithm that helps parents & students find their personal dream school.
Services provided: Technical consulting, full-stack development with Django, Vue.JS, ElasticSearch, ongoing support & maintenance.
Boarding school management system
Comprehensive custom learning & administration management system  for the two private boarding schools Schloss Torgelow and Kurpfalz-Internat providing a wide range of communciation and administrative tools to the schools' teachers, staff, students, parents, and alumni.
Services provided: Technical design & consulting, full-stack development with Python/Django, ongoing feature development, maintenance and support.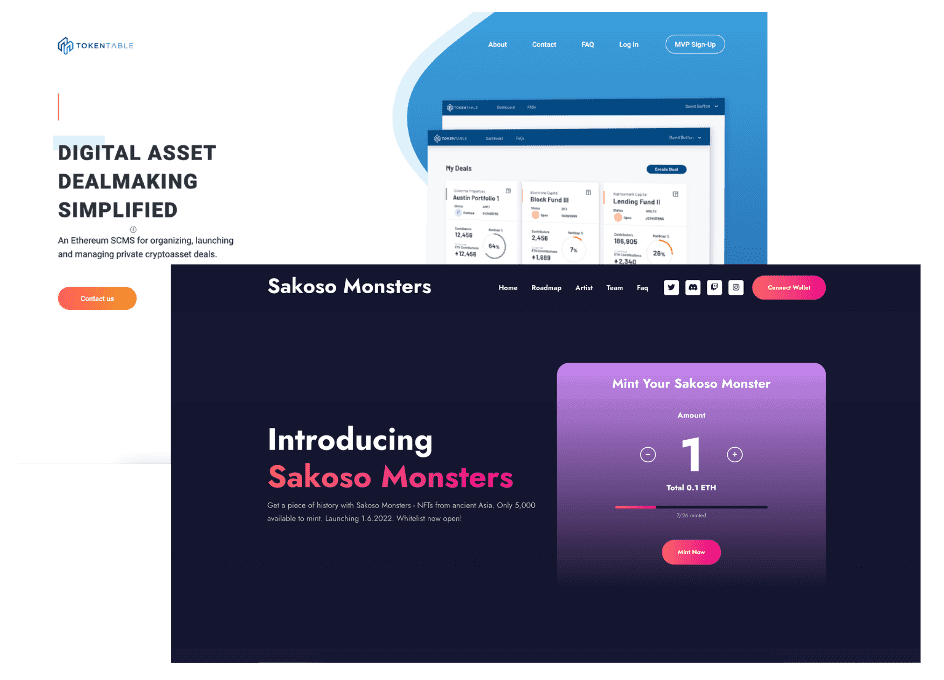 Tokentable.io
Deal-making platform that enables buyers and sellers of real-world assets such as real estate create and transact through Ethereum smart contracts.
Services provided: Scope & requirements definition, technical lead, QA, development team lead, Ethereum smart contract development/testing.
SakosoMonsters.com
NFT minting and trading website utilising smart contracts on the Ethereum/Polygon blockchain (portfolio project only).
Services provided: Thirdweb and OpenSea integration for NFT minting, browsing, and trading.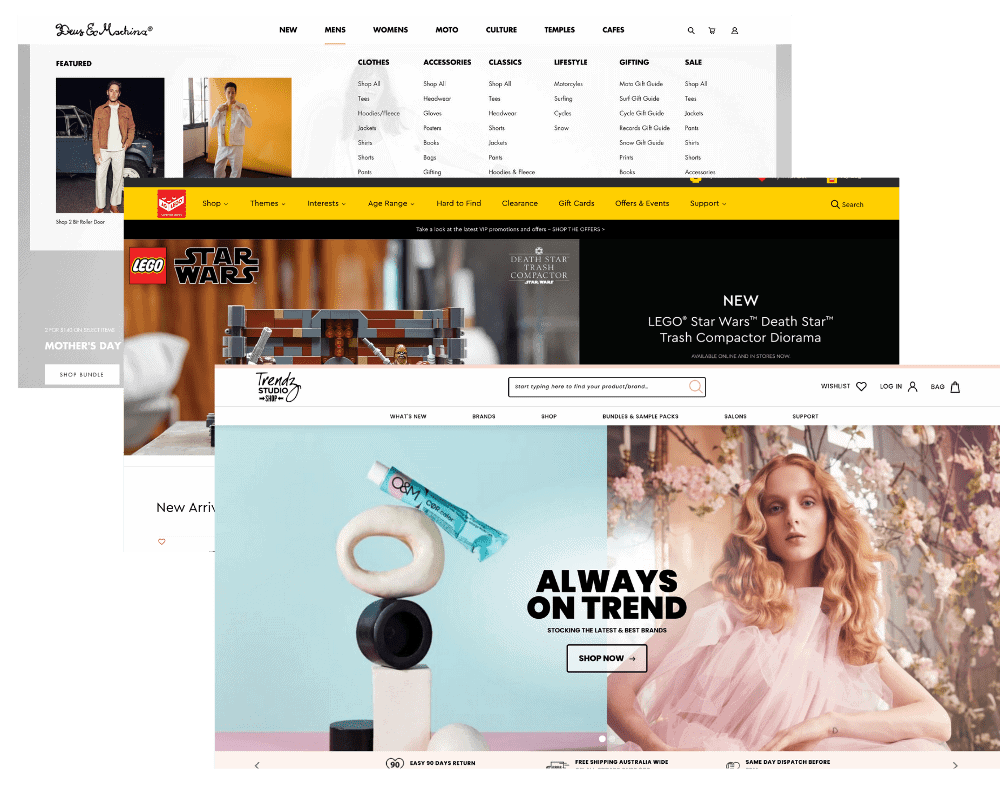 Ecommerce & Content WEbsites
In addition to the above full-stack projects, I have lead and been involved in many ecommerce and content website projects, mainly on Shopify and WordPress/WooCommerce. 
While I am moving my focus away from these, I continue to draw from the experience and business insights gained there.
Brands I've worked with include:
Deus Ex Machina – deuscustoms.com

AG LEGO Certified Stores Australia – lego.bricksmegastore.com

Mr Consistent – mrconsistent.com.au

Marvell Lane – marvell-lane.com

Osher Group – oshergroup.com

Trendz Hair Studio -trendzstudioshop.com.au

Your Strata Property – yourstrataproperty.com.au

Reiseziele Deutschland – reisezieledeutschland.de
Services provided: Shopify theme & integration development; WordPress theme development, technical support, customisation, complex builds; page speed optimisation & SEO implementation
Find out how my clients transformed their businesses with the help of my consulting and web development:
"Michelle took my non-technical application requirements and transformed them into a very effective technical specification. She then worked efficiently with the development team to enforce that spec. through the application build. The app shipped and it works as intended. Would hire her again."
"I wanted to drop you a quick not to acknowledge and appreciate your hard work, effort and attention to detail with the Deus project over the 12 months. It's been great working alongside you on Deus, albeit rather challenging at times, your approach with dev has been refreshing."
Let's Start Something new

Say Hello!
Tell me a bit about your project and what you're looking for and we can hop on a call to discuss how I can help you.